As you know I love Pinterest!! I am finding great DIY, recipes, home decor ideas, and more. You can get a little Pinning crazy so I decided to try to start doing what I PIN.
I am going to feature something I found on Pinterest that I actually did as I complete them.
FOOTPRINT BUTTERFLIES:
Small Blank Canvas
Finger Paint in various colors
Sharpie Markers
I added a twig border and you can be creative and add whatever you like or leave the Canvas without a borer. I drew the bodies with Sharpie Marker and used their fingerprints for the antennas.
That is the beauty of DIY you can change it up!!
Final Project:
My Husband helped me execute this project, my little guy (18 months) needed to be held in order to paint his feet and place them on the canvas!
~Happy Pinning!
The Original Idea:
http://projectbalancingact.blogspot.ca/2010/08/fingerpainting-fun-with-james.html
Linked Up With: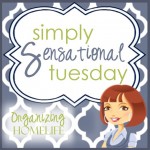 Also LInked to A Bowl full of Lemons:
http://abowlfulloflemons.blogspot.com/2012/07/one-project-at-time-garage-organization.html